Abersons in Vogue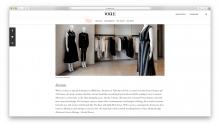 Abersons was recently featured in

As one of the "17 Small Businesses to Support in the South".
"When it comes to upscale boutiques in Oklahoma, Abersons in Tulsa tops the list. Located on South Peoria Avenue and 35th Street, the shop's modest all-white exterior looks like something found in Beverly Hills—making it easy to assume Abersons is a newcomer to the Tulsa shopping scene. On the contrary, Abersons has a storied 40-year history, and with time comes knowledge: The boutique carries a smart edit of contemporary and designer clothing, shoes and accessories for both men and women with brands like The Row and Stella McCartney. With a serene, contemporary showroom that is just as alluring as the boutique's exterior, don't be surprised to find yourself spending plenty of time sifting through Abersons's latest offerings."
—Rachel Besser
To view the full feature, please click here.